As a forewarning, this post will contain a lot of photos of my dog.
After visiting my mother, I went back to Seattle and then north to Bellingham to visit my brother. He has just bought a house and I went up to see it, help him paint, and to visit our family dog, Abbie. Bellingham is about an hour south of the Canadian border, and is the location of Western Washington University, where my brother and some of my best friends from High School went to college. It is a small town but well-loved by the people who live there, and is generally stereotyped as "full of hippies." Other than that, there isn't too much to say. It started out as a coal mining town, after white settlers arrived in 1854, today it is known for hippies, Boundary Bay Brewery, Whatcom falls, and Mallards ice-cream parlor. At least I think so.
My brother is three years older than me, and in all honesty we are very different. He has blond hair, blue eyes, and I have brown hair, brown eyes. He is a science major, I am an art major. I think we have gotten along better since we are both adults (sort of… calling myself an adult seems strange) now, but we didn't really fight that much as kids.
We got Abbie when I was a freshman in High School, so I think about when I was 15 years old. She is supposedly a purebred chocolate Labrador Retriever, but I'm skeptical. I'm pretty sure she is a moose-bear-dog hybrid. I don't have much evidence of the Moose part, but here is my evidence of the beer bit: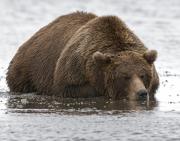 When I was in Junior High, I ran track and field, and I made a bet with my father that I could set some of our school's records. If I did it, I could get another dog (we had a cocker spaniel named Cookie at the time). Well, that is how Abbie became a part of the family. I set our school's record for the 200m Hurdles and in the 4x400m.
I spent the weekend hanging out with my brother, helping him paint the kitchen and living room of his new home. While we waited for the paint to dry in between coats, we watched the Game of Thrones series on DVD. He cooked me delicious food, which is another way we are different. He can cook, and I cannot.
It wasn't an incredibly exciting weekend, but it was a good one. Good food, relaxation, moose-bear-dogs, and big brothers.